Pneumatic Vendors > Humphrey Products
Fluid Control Products - Pneumatic Valves, Cylinders, Actuators and Accessories
HUMPHREY is recognized worldwide as a leading manufacturer of pneumatic products, including air cylinders, slides, rodless cylinders, rotary actuators and grippers, solenoid, air, manual and foot valves, quick exhaust valves, vacuum valves and TAC Series air valves (310, 410, 062, 250 etc.).
Humphrey Products was founded over 100 years ago and has since been providing superior pneumatic products to customers worldwide.
Humphrey will not only work to solve your fluid control challenges, but to also improve the ease and efficiency of your manufacturing process.
Product Offering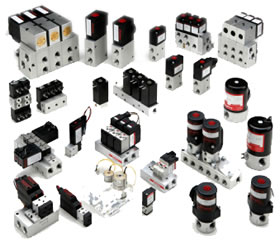 Solenoid Valves – Direct Acting
Available in NPT or metric threads
Broad range of single and double solenoid valves with poppet and diaphragm poppet designs for reliable, quiet operation
Direct acting design permits operation at high or low pressure and vacuum
Micro to maxi sizes with flow rates from 0.01 Cv to 1.0 Cv
Unique micro Spider* Wafer Solenoid valve for high cycle-rate reliability
Valves available to meet many specific requirements, including low current consumption, high/low temperature operation, low leakage, media compatibility and no lubrication
In-line, sub base and manifold options
Various electrical options, including connectors, lead lengths, LEDs and surge suppression
Manual / Mechanical Air Valves
Basic pneumatic valves for ON-OFF control, clamping, pilot signaling and logic signaling
Diaphragm poppet design requires no lubrication
Ultra low force palm button models
Flow rates from 0.2 Cv to 2.4 Cv
Available with palm actuator, foot actuator, levers, toggles, ball, plunger, roller cam and one-way roller cam operators
Valves can be mounted in-line, body mounted and most can be base or panel mounted
Vacuum Valves
Unique diaphragm design requires no lubrication
Contamination tolerant for non-sticking performance
Flow rates from 0.01 Cv to 2.6 Cv
Available with manual/mechanical, piloted or solenoid actuators
Some direct acting solenoid models offer small size and low current consumption
Air Pilot Valves
Pneumatic actuated valves for relay and/or amplification of smaller pilot signals
Used in hazardous environments and demanding applications
Available in diaphragm poppet types, which require no lubrication, or poppet and spool types
Flow rates from 0.2 Cv to 2.4 Cv
Valve options include single air pilot, ultra low pilot/interface for weak or erratic signals, momentary air pilot providing unique control methods and double air pilot for momentary signal with maintained position
Poppet and spool valves can be mounted in-line, on a sub base, or on manifolds
Accessories include exhaust port flow controls and manifold block-off plates
TAC/TAC2 Manual/Mechanical and Air-Pilot Valves
Total Air Control system of miniature valves, actuators and accessories for pneumatic controls and logic systems to create time delay circuits, one-shot, reset, and ballpoint pen functions
Control options include pressure regulators, flow controls, speed controls, check valves, shuttle/quick exhaust valves
Flow rates from 0.1 Cv to 0.4 Cv
Manual/mechanical operators include ball, cam, cam with one-way actuation, fingertip, foot, knee or hand operators
Manual air valve options include pushbutton, push-pull, toggle and rocker
Air pilot operators thread onto pushbutton valves to create snap action, reset, and snap action plus reset, or simply to amplify weak pilot signals
Full range of miniature fittings and mounting brackets
Cartridge Insert Valves
Diaphragm poppet cartridge valves are designed specifically for incorporation into OEM products to become a proprietary and unrecognizable component
The basic 3-way valve can function as a 2-way, 3-way or use two for 4-way valve function
Available with manual/mechanical, piloted or solenoid actuators
Flow rates from 0.01 Cv to 2.4 Cv
These valves often are incorporated into a Humphrey Engineered Solution to provide a custom proprietary module that meets a customer's unique requirements for enhanced performance, reliability and total life cycle cost
Glue Valves
Available in 1/8 and 1/4 pipe ports and orifices
Double air-piloted valves with reliable construction
Only two flexing diaphragms and no sliding seals
Positive Open and Close, with no dripping upon closing
Designed with no pockets for glue to collect to ease in cleaning
Available in 2-way models
Quick Exhaust Valves
Used to accelerate the venting of air from air cylinder and/or chambers
Unique shuttle design
Low-pressure differential to shift
Available in sizes from 10-32 to 3/4 inch
Stainless Steel Cylinders
Round pneumatic actuators in single and double acting types
Stainless steel barrel and rods
Aluminum heads and pistons
Bore sizes from 1/2 inch to 2-1/2 inches
Lightweight models available
Various mounting and electrical position sensors available
Pneumatic Cylinders (interchangeable with Bimba®)
Rodless Cylinders
Block Cylinders
Multi Mount Cylinders
Knock Cylinders
Twinport Cylinders
Twin Rod Cylinders
Actuators and Accessories
Rotary Actuators
Slide Units
Grippers
Special Valves and Cylinders Available (built to customer specs)