Pneumatic Vendors > LinkTech

Interchange Quick Couplings
LinkTech Quick Couplings Inc. is an American manufacturer of thumb-latch quick couplings and valves, who since 2005 has grown from five product lines to twenty-four complete product series. LInkTech is now The World's Largest Producer of Interchange Quick Couplings - offering high quality, general purpose quick disconnect couplings, with nearly ten thousand standard and custom styles to meet your individual application needs.
STANDARD PRODUCTS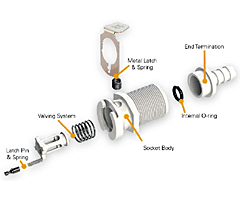 LinkTech's standard product range of over 9600 styles, includes a complete range of threaded, panel mount, in-line and elbow, plastic coupling or metal coupling configurations. LinkTech's general purpose quick disconnect fittings are particularly well suited for use on durable and disposable medical equipment, analytical devices, food & beverage dispensers, and many other applications.
Product Offering

Miniature Twist Lock Technology
-10 SERIES: 1/16" FLOW SIZE – TWIST LOCK
These twist lock couplings are intuitive to use and make an audible 'click' when coupled with their improved "Easy Grip Barrel" that provides an ergonomic handle with a non-slip more secure grip and reliable connection every time.

Legacy Metal Latch Technology
-20 SERIES: 1/8" FLOW SIZE – LEGACY METAL LATCH
-40 SERIES: 1/4" FLOW SIZE – LEGACY METAL LATCH
-42 SERIES: 3/32" FLOW SIZE – DUAL FLOW PATH
These general purpose legacy couplings have been the standard solution for applications throughout the world. These couplings offer the largest selection of sizes and configurations. 20 Series and 40 Series are provided in a durable natural Acetal (POM) Thermoplastic, Polypropylene or Chrome Brass.

Advanced Plastic Latch Technology
-30 SERIES: 1/8" FLOW SIZE – ADVANCED PLASTIC LATCH
-50 SERIES: 1/4" FLOW SIZE – ADVANCED PLASTIC LATCH
-60 SERIES: 3/8" FLOW SIZE – ADVANCED PLASTIC LATCH
-65 SERIES: 1/2" FREE FLOW – ADVANCED PLASTIC LATCH
These innovative couplings were designed to be more durable and cost efficient with less metal components. Their ergonomic design is proving to be the ideal solution for tubing applications.

Multiple Port Technology
-42 SERIES: 3/32" FLOW SIZE – DUAL FLOW PATH"
-100 SERIES: 1/16" FLOW SIZE – TEN LINES, ONE CONNECTION"
The multiport couplings feature an intuitive slide latch that easily connects/disconnects up to ten fluid lines. The coupling set can accommodate 1/16", 3mm or 1/8" flow size inserts to meet specific application needs.
CUSTOM PRODUCTS:

LinkTech has developed hundreds of custom designed connection solutions for challenging applications. Their engineering staff is ready to work with your designers to solve application problems beyond the scope of the standard product offering. Whether it is a simple O-ring, color change, or a completely new and unique design, LinkTech offers customers the best possible solution at the lowest possible cost.
LinkTech Custom Design Options Include: Multi-Port Couplings, Non-Standard / High Performance Coupling Materials, Unique Valved Couplings, Molded Color Couplings, Non-Spill Capabilities and Value Added Services
Product Features

ADDED ADVANTAGE:
Audible "click" ensures a secure connection.
Intuitive thumb-latch design, one-hand disconnect.
Interchangeable with other thumb-latch type couplings.
Integral end terminations eliminate leak points.
Rotates while connected and pressurized.
Leak-free O-ring seal design.
Individual series connect together.

FLOW SIZE:
(See Part Number Guide for details)
1/16″ Flow – Twist Lock Technology
1/8″ Flow – Metal and/or Plastic Latch Technology
1/4″ Flow – Metal and/or Plastic Latch Technology
3/8″ Flow – Plastic Latch Technology
1/2″ Flow – Plastic Latch Technology

STANDARD MATERIALS:
Acetal (POM) with Buna-N O-rings.
Medical Grade Gamma stable polypropylene with Peroxide-cured EPDM.
Chrome Plated Brass with Buna-N O-rings.
Glass Filled Polypropylene with EPDM O-rings.
Medical Grade ABS with Buna-N O-rings.
High Performance Polysulfone with EPDM O-rings.
USP Class VI coupling versions available.

STANDARD OPTIONS:
O-ring material change
Dyed color couplings
Exclusion of panel nut/pft nut and/or thumb-latch
Exclusion of end termination
Exclusion of O-ring lubricant
Assembly of nuts on product
Technical Specifications
LINK TO VENDOR LINKTECH QUICK COUPLINGS INC.